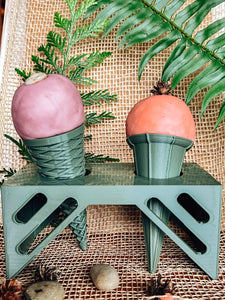 Stand Size:
Height: 7cm
Width: 7.5cm
Length:15cm
Can hold 2 ice creams.
Our Ice cream role play pieces are designed and made to be used with playdough, crystals, florals, whipped foam, bubbles, shaving cream, and all manner of sensory bases.  
Size: 10cm Height / 5cm Diameter
Made from: All cutters are ethically made from starch raw materials which are eco-friendly and 100% biodegradable. All cutters are made with non-toxic materials and are food safe.
How to clean: Store out of direct sunlight, or high temperature areas. DO NOT put in dishwasher. Wash with cold water
Durability: To prolong the life of your biodegradable ECO-Cutters avoid leaving them in direct sunlight or moisture.
These cutters can be used with clay, playdough, as a cookie cutter or even in sand.
Recommended age: 3 years +